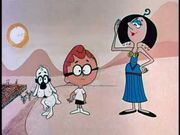 Cleopatra is an episode of Peabody's Improbable History.
Plot
Mr. Peabody and Sherman rescue Queen Cleopatra VII of Egypt from Ptolemy XIII's coup attempt, and play Cupid for her and General Julius Caesar.
Trivia
Cleopatra notes the similarity of Sherman's name to William Tecumseh Sherman.
Goofs
Peabody sets the WABAC machine for 42 BC, yet the story depicts Julius Caesar's Egyptian campaign of 48-47 BC. As every schoolchild knows, Caesar was murdered on 15 March 44 BC. Unlike the series' frequent humorous anachronisms, this inaccuracy appears to be unintentional.