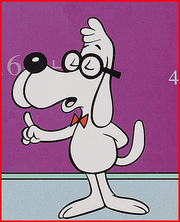 Hector James Peabody is a character in Mr. Peabody and Sherman. He is Sherman's master and professor, voiced by Bill Scott.
After deciding he needed a boy to keep him happy, he settled for Sherman after seeing how badly he was being treated at the orphanage. After a long legal battle he was able to adopt Sherman.
He then proceeded to build a time machine to make sure Sherman gets out more often.