Wailing Whale is the seventh/last story arc from the second season of Rocky and His Friends. It was broadcast on ABC during the 1960-61 television season. It depicts Rocky J. Squirrel, Bullwinkle J. Moose, and Captain Peter Peachfuzz searching for Maybe Dick, the Whaling Whale.
Plot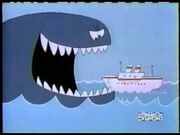 Maybe Dick, a legendary ship-devouring whale from (very questionable) seafaring lore, has begun ravaging the shipping industry. Powerful magnate Pericles Parnassus recruits our friends from Frostbite Falls on a mission to fish for the monster with a telephone pole. However, Parnassus has in fact loaded the ship full of TNT, recruiting the hapless heroes as unwitting suicide bombers.
Segments
Wailing Whale
Vagabond Voyage or The Castoffs Cast Off
Fear on the Pier or What's Up Dock?
TNT for Two or Fright Cargo
Underwater Eyeball or The Deep Blue See
Underwater Moose or The Aqua-lunk
Terror On The Seas or We've Only Begun to Fright
Blank Night or The Age of Nothing
Defective Story or A Muffled Report
Leaky Lyrics or Bullwinkle Plugs a Song
Follow the Swallow or The Inside Story
Playtime for Rollo or Rest In Pieces
A Whale of A Tale or Thar She Blows Up
Fast and Moose or Charley's Antlers
Trivia/Notes
Community content is available under
CC-BY-SA
unless otherwise noted.